Destination: North Carolina's Outer Banks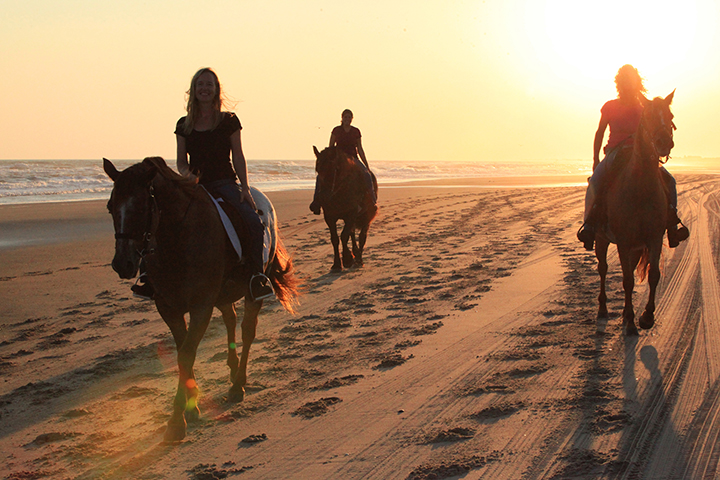 Perhaps as a result of environmental debate, observing migratory birds like ducks, geese, brant, swans, hawks, and eagles in their coastal habitats has become a growing interest. It is even more fun for the family when the adventure includes old airplanes, shipwrecks, and lighthouses along with the never-ending sun, sand, and ocean of the Outer Banks.
Fly into First Flight Airport, Billy Mitchell Airport, or Ocracoke Island Airport–each airport with 3,000 feet of asphalt which the PC-12 can easily handle, and jump right into many different adventure possibilities.
Pea Island National Wildlife Refuge
As one example, the Pea Island National Wildlife Refuge, located on the north end of Hatteras Island, is a great spot to watch snow geese, Canadian geese, tundra swans and 25 species of duck. Thirteen miles in length, the refuge includes ocean beach, dunes, upland, fresh and brackish water ponds, salt flats, and salt marsh, and hosts more than 365 species of birds, 25 species of mammals, 24 species of reptiles and 5 species of amphibians.
Cape Hatteras Lighthouse
A bit to the south is the picturesque and historic Cape Hatteras Lighthouse. It was first built in 1807, replaced by a better, much taller structure in 1870, and added its distinctive paint pattern in 1873. While the lighthouse tried to protect sailors from the twelve-mile-long sandbar off Cape Hatteras called Diamond Shoals, the ocean battled back by eroding the very land the lighthouse was built on.
Counting the many shipwrecks you can explore at the "Graveyard of the Atlantic Museum" or see in person by donning your scuba gear and considering the move that relocated the lighthouse 2,900 feet back from the shoreline, it looks like the ocean is winning.
Ocracoke Island
If you want excitement beyond shipwrecks, Ocracoke is worth a look. Just a short ferry ride from Hatteras Island, you can visit what once was the home of Captain Blackbeard. After that you can stretch out somewhere along the 16 miles of unspoiled beach, surrounded by Pamlico Sound and the Atlantic Ocean.
You could also follow in the footsteps of one of the photographers who generously shared some gorgeous images from his visits to the Outer Banks. According to Mark, "there are so many wonderful things about the Outer Banks. I mostly enjoyed surfing miles of empty beaches, surf fishing off the beach or offshore fishing in the Gulf Stream, or in winter walking on the beach with my family watching the waves and shore birds."
Wright Brothers National Memorial
We, of course, gravitate towards the Wright Brothers National Memorial in Kill Devil Hills as a reminder of their experiments and "the world's first heavier than air, powered controlled flight". The memorial is right where Wilbur and Orville Wright became scientific masters of the air by gliding from atop Big Kill Devil Hill over a thousand times to discover and learn the flying skills that ultimately led them to their breakthrough. Their story is cool and meaningful on so many levels, and it may be the perfect end to your family's Outer Banks adventure before you take off from First Flight Airport, ready to take on the world yet again.