The PlaneSense® fractional ownership program is the most versatile private aviation solution in the industry, and the selection of aircraft that comprises the fleet reflects that, starting with the Pilatus PC-12 turboprop aircraft. Reliable, comfortable, and accessible, the PC-12 program and aircraft set the bar high.
About
The PC-12 strikes the perfect balance between comfort and convenience, making it an ideal fit for the versatile fractional ownership program. With its exceptional landing capabilities, fuel-efficient technology, and a large, in-cabin luggage compartment, the PC-12 and skilled PlaneSense® pilots will safely and quickly get you and all of your luggage (bicycles, fishing gear, golf clubs—you name it) as close as possible to your final destination.
Spacious Cabin
The Pilatus PC-12 aircraft was built with passengers in mind – purposefully designed for comfort, with six spacious seats in an executive style configuration. At 330 cubic feet, the PC-12's interior cabin is roomier than similarly sized jets, including the Hawker® 400XP, the LearJet® 45, and the Cessna Citation CJ3®.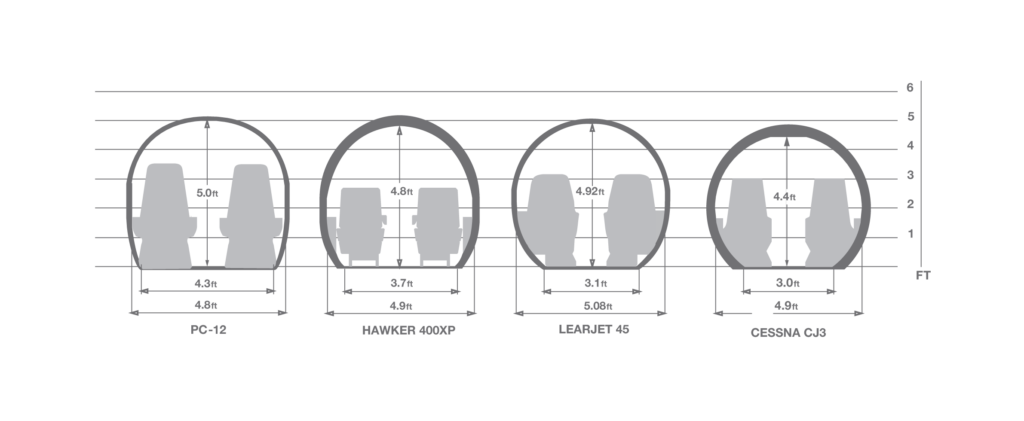 Relax and unwind in the PC-12's spacious and luxurious pressurized cabin. Enjoy the extra legroom, swivel and recline in a luxury seat, hold work meetings, or spend time with your family. The PC-12's cabin features include:
Six large full function seats that swivel and recline
Three tables for work or meals
Club-chair arrangement for face-to-face meetings
Refreshment center
A/C outlets
Private, enclosed lavatory
Uniquely large cargo door
Direct access to luggage area from inside the cabin
Interactive 360° Tour
Take a look inside the spacious cabin of the PC-12 and imagine traveling to your next destination in exceptional comfort while enjoying amazing views. No detail has been overlooked inside the cabin, including easy access to the large internal cargo area.
Spacious cabin. Luxury seating. True comfort. Experience the Pilatus PC-12.
Contact Us
Gentle Landings
Many who have flown in a Pilatus PC-12 are impressed by the smooth landing. These gentle landings are attributed to the skill of PlaneSense's highly trained pilots, but they are also made possible by the aircraft's retractable trailing-link landing gear, which combines a massive swinging arm with an oleo strut to absorb shock. This gear is the reason PC-12 aircraft can land on all types of unimproved runways with such ease — including grass, dirt, and crushed coral.
Destinations
The PC-12's impressive short field performance allows it to access thousands of airports not available to commercial aviation or most business-class jets. Passengers can fly the PC-12 across the U.S, Canada, the Bahamas, and the Caribbean, including short runways on private islands and remote ski destinations. The aircraft is also at home at the world's busiest hubs and executive airports.
Want to learn more about our PC-12 aircraft and fractional program? Contact us today!