Pilatus PC-12 Turboprop
The Pilatus PC-12 has been an integral part of the PlaneSense® fleet since 1995, giving the team more operational experience than any other program. At home on a 10,000′ commercial hub runway or a short, remote grass airstrip, the PC-12 offers remarkable comfort and is known for its outstanding performance, safety, and reliability.
Ideal for Trips Between 300 to 800 NM*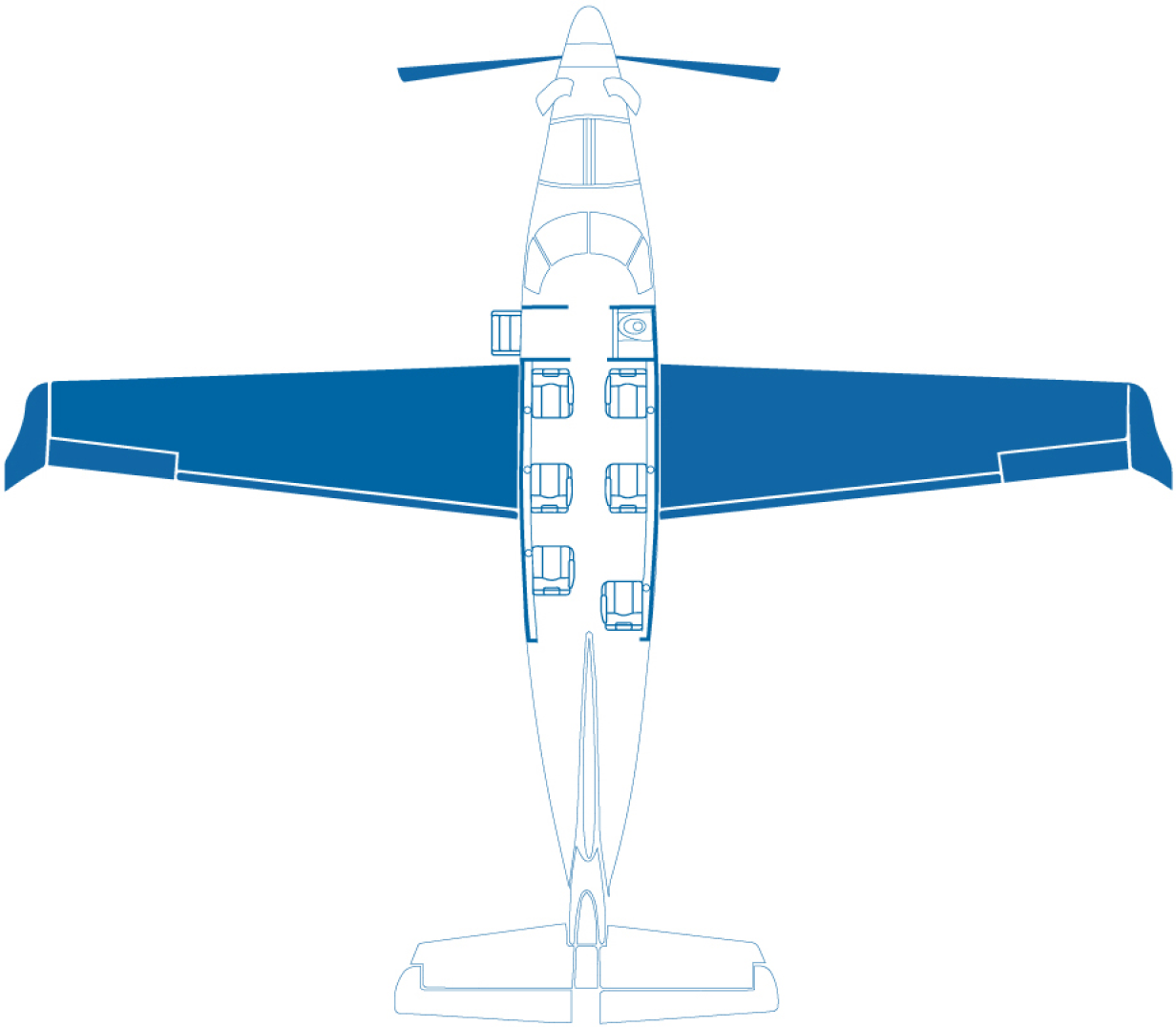 Runway Performance
Wide swept wings and advanced landing gear allow for short-field landings.
Spacious Cabin
The 330 cubic foot cabin offers plenty of headroom for the tallest of passengers.
In-Flight Technology
Wi-fi equipped for texting, emails, web access and calls.
Large Cargo
The 40 cubic feet of climate controlled cargo space is easily accessible during your flight.
Engine
Pratt & Whitney turboprop engine offers incredible operational efficiency.
Avionics
Advanced glass cockpit provides state of the art technology for the two-pilot crew.
Seats
Executive seating provides a luxurious flight experience.
Flat Floor
Continuous flat floor provides ideal leg room and is preferred by your pets.
Interactive 360° Tour
Take a look inside the spacious cabin of the Pilatus PC-12 and imagine traveling to your next destination in exceptional comfort while enjoying amazing views. No detail has been overlooked inside the cabin, including easy access to the large internal cargo area.
*Range examples are based on typical cruise speed assuming ISA conditions, zero winds, and standard fuel reserves. Based on average passenger numbers flown in 2019 on Pilatus PC-12 and PC-24 aircraft. The intent is comparison purposes only; not for actual flight planning. Actual performance is subject to day of flight conditions.
Contact us for your customized private flying solution
Tell us about your private travel needs and our team will provide you with travel solutions that are customized to fit you. For career opportunities and questions, please visit our careers section.
Personal data will be processed, stored, and used in accordance with the terms set out in our privacy policy. By submitting the form, you consent to such processing.